SEND Information
1. Special Educational Needs Policy
St Joseph's Catholic High School believes that every student has an entitlement to develop their full potential and recognises a student's right to a broad, balanced, relevant and challenging curriculum appropriate to their individual abilities, talents and personal qualities.
2. Teaching and Learning
Teachers at St Joseph's Catholic High School meet the needs of all our students through high quality teaching and learning.  They reduce and remove barriers to achievement through assessments, target setting, verbal and non-verbal feedback, lessons plans and use differentiated approaches in their lesson planning.  Staff liaise with non-teaching support staff in order for all students to achieve.  Progress is shown through a reporting system every six weeks and there are opportunities for the Parents to meet or speak with their Head of Year, Form Tutor and SEN Co-ordinator to discuss their learning.
3. Identifying and Assessing Special Educational Needs
Children and Young People are identified as having other Special Educational Needs, through conversations with Parents and through good quality information which has been received from local primary schools.  In addition to this, systems are in place to analyse data; Literacy, Numeracy and subject specific assessment and testing.  The Special Educational Needs Co-ordinator (SENCO) and SEN team assess the Child or Young Person's needs; a personalised plan is drawn up and interventions are put in place. For example, if Reading Age and/or Spelling Age is below targets set, students will have extra Literacy lessons to address this.  The Child or Young Person is then monitored for progress and the interventions that have been put in place are reviewed termly as well.  Looked after Children (LAC) have a Personal Plan too, which is regularly reviewed with all relevant parties.  At all times Parents are welcome to discuss the needs of their Children and Young People with the SEN Co-ordinator.
4. Involving Parents and Children and Young People in Planning and Reviewing Progress
The SENCO will involve Parents in target setting and agreeing outcomes for Statements/Education, Health and Care Plan (EHCP) in a formal (statutory) Annual Review meeting. For students who are considered to be in 'crisis' there will be a formal TAC (Team Around the Child) Meeting, which will include Parents and agencies that work with the family. Individual Educational Plans (IEP) are written in consultation with the Parents, Children and Young People and SENCO and will be reviewed twice a year.
5. Additional Support
Although we do not have an Autism Resource Base, we have many students who have ASD.  We provide support for our ASD students in mainstream and small groups according to the needs of the individual student.  We have two non-teaching members of staff who are fully trained to work with ASD students and support them in all aspects of the curriculum.
Following on from the school's high quality teaching and learning, St. Joseph's Catholic High School uses various other support structures and intervention.  We work with numerous agencies to help deal with the various needs of our students; Hearing Impairment, Speech and Language, Educational Psychologists and SEBDOS (Social Emotional and Behavioural Outreach Service). We also have social skills programmes, literacy and numeracy support and we work with the Career Services who provide guidance and support for our Young People.
Here at St. Joseph's Catholic High School we have an EAL Community Co-ordinator who liaises with Parents, Students and Teachers during Parents' Evening and Meetings when necessary.
6. Extra Activities
In addition to the formal curriculum, all children and young people are offered opportunities in an extra-curricular programme that is both at lunch-time and after-school.  These activities can include, Sport, Dance, Science and Technology, Art and Music.  There is a programme of curriculum related school trips and additional opportunities to get involved in the life of the school such as peer mentoring and student voice.
7. Meeting the Social and Emotional Needs of Children and Young People with SEN
Social and Emotional Needs are identified though analysing behavioural and progress data and referrals from staff who have concerns about Children and Young People.  Students, Parents and external agencies can also help to identify Social and Emotional Needs.  St Joseph's Catholic High School has a clear anti-bullying policy where the school looks to resolve issues and intervene in confidence building where necessary.  School assemblies and outside speakers at St Joseph's help to meet the Social and Emotional Needs of our students. Added to this, we have a School Counsellor who works across all schools within the Trust to provide a Chaplaincy service to our pupils.
8. Keeping up-to-date with knowledge and skills
All staff at St Joseph's Catholic High School have regular professional development opportunities from courses and have training on specific student needs, for example, Dyslexia, Behaviour training, Hearing Impairment and Autism.  Staff are committed to high quality teaching and understanding of learning methodologies.  Training also ensures that all staff are aware of the correct procedures in relation to safeguarding.
9. Transition
For transition from Key Stage 2 to Key Stage 3, the school works closely with the primary schools to personalise a transition programme that is graduated and supported, so that the transfer is a comfortable move for any students that primaries think will struggle; including those with SEN.  The school will involve the parents in this process to assist with any anxieties that they have about their child moving to secondary school.  Key Stage 3 to Key Stage 4 transition sees a whole Year Group meeting with the parents and students to advise what is on offer in regards to GCSE option choices.  There is also the opportunity for parents to speak to the Head of Year, SENCO and Form Tutors to further explore option choices.  This is aided with careers interviews and personal needs are met within the student's pathways and interventions.  Key Stage 4 to Key Stage 5 transition is individually tailored through careers advice and with college applications and visits.
10. Helpful contacts
St Joseph's Catholic High School SENDCo
Miss C Cooper
c.cooper@st-josephs.slough.sch.uk
01753 524713
St Joseph's Catholic High School Deputy SENDCo
Miss H Stone
h.stone@st-josephs.slough.sch.uk
01753 524713 
St Joseph's Catholic High School Designated Child Protection Officer
Miss S Cheston
s.cheston@st-josephs.slough.sch.uk
01753 524713
Slough Borough Council
Anastasia Krawczuk
SEN Case Officer
01753 477219
SEND Local Offer
https://www.sloughfamilyservices.org.uk/kb5/sloughcst/directory/localoffer.page?directorychannel=5
(SENDIASS) SEND Information Advice and Support Service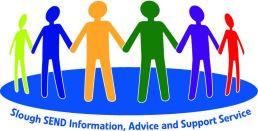 SENDIASS offer confidential, impartial, individualised support and advice on the steps to take in areas of Education Health and social care to empower those who seek our assistance.  Our service is open to children and young people with special educational needs or disabilities, their parents and carers and professionals supporting them within education settings.
Website address is: https://www.sloughsendiass.org.uk/
Tel: 01753787693 (Main)