Music
Intent

To inspire students to develop a love of music and build self-confidence, creativity and a sense of achievement by giving them opportunities to compose, perform and listen to a wide variety of musical platforms. 
Music Curriculum at St Joseph's
KS3 music at St Joseph's is based on our students learning the essential skills in order to play, compose and listen to music. 
YEAR 7
In Year 7 we study a range of topics from around the world, highlighting some of the key skills used in music from a range of different perspectives. e.g. Melody writing, simple and complex rhythms, reading and creating different forms of written music.
YEAR 8
In Year 8 we study the evolution of these skills through time, ranging from the 17-21st Century. By studying these styles and techniques, we explore how the same ideas are transformed through history to impact future generations.
KEY STAGE 4
At KS4 we begin studying the Edexcel GCSE Music curriculum. We aim fully explore the capabilities of our students as musicians, as well as give them an insight and understanding on the qualities of producing a performance, a composition and analysing pieces of music.
YEAR 9
In Year 9 we focus on foundation listening skills and build their ability to hear and listen, to develop their use of Oracy and Auracy in music through listening to a variety of genres and pieces. We learn about the Musical elements and how to identify them through listening. We also learn compositional techniques and how to create new ideas, as well as exploring how to compose to a brief. Students also spend time developing performance and practice technique and discussing the kinds of characteristics we expect of performers in the music industry.
YEAR 10
In Year 10, we focus on developing and enhancing the performance skills of our students by completing and recording solo performances. We also focus on the application of the musical elements in all 3 areas of focus and how we can use and identify them within music. In addition to this we also complete composition projects in a variety of styles to help develop our knowledge in different genres and techniques.
YEAR 11
In Year 11, we focus on culminating all of our gained knowledge into three externally assessed units. Performance, Composition and Listening & Appraising.
For performance, students must complete and perform a Solo performance and this must be recorded. Students must demonstrate dexterity, confidence and expression to achieve highly.
For composition, students are required to compose 1 complete piece of music for a brief. This can be a brief of their choosing or one set by the teacher. In this composition, students are assessed on their ability to demonstrate a variety of techniques as well as their deep understanding of the musical elements. They are also examined on their ability to reflect the brief and write idiomatically for their chosen instruments.
For the Listening & Appraising exam, students must demonstrate a clear awareness and sensitivity to different styles & genres of music and must be able to explain and analyse pieces of music. 
A-LEVEL MUSIC
For KS5 we begin studying the BTEC Level 3 Extended National Certificate in Music Performance. As part of this, students prepare 4 units, 2 externally and 2 internally, which focus on developing their skills in performance, musical theory and harmony as well as understanding the music industry.
Unit 1 -Practical Music Theory and Harmony: Students develop their knowledge of musical theory and demonstrate their knowledge through composition, research and discussion. 
Unit 2 - Professional Practice in the Music Industry: Students explore the different roles and levels of the music industry and analyse a variety of music events. Students are expected to research different types of work within the industry and plan different musical events.
Unit 3 - Ensemble Performance: Students must study the roles within an ensemble and develop their performance, listening and communication skills in order to rehearse and perform successfully as a group.
Unit 6 - Solo Performance: Students must study and analyse the role of a solo musician, research and construct a 20 minute solo performance demonstrating a variety of styles.
EXTRA CURRICULAR
We hold musical how competitions and activities through the year, including the memory challenge, battle of the bands and looking at different musical events like Black History month. We work closely alongside the Slough Music Service in providing our students with a wide range of experiences, including opportunities to perform within the community and take part in competitions. We also host instrumental lessons for students with visiting teachers from the Slough Music Service,  as well as host our own extra curricular clubs, such are choir, guitar club and West African Drumming.
CAREERS IN MUSIC
In music lessons, we have frequent discussions about how music skills can transfer to a variety of subjects, we also have discussions about the kinds of jobs and careers that are available to young people as well as what pathways are available. Additionally, we have talks and lessons with a variety of musical professionals to help gives students an insight into how different sectors of the music industry works.
When preparing for university and working life, we discuss the different options for students and the kinds of requirements these institutions need, and the expectations students will need to demonstrate.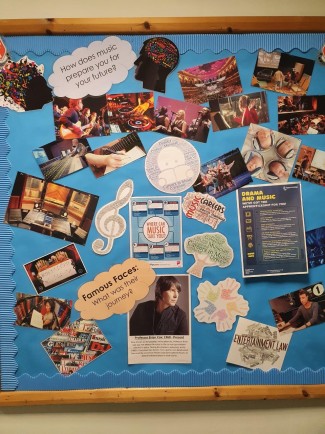 Careers in Music
https://www.careersinmusic.com/music-careers/
Prospects in Music
https://www.prospects.ac.uk/jobs-and-work-experience/job-sectors/creative-arts-and-design/careers-in-music
CONTACT US
For further information regarding Music please contact the following:
Ms Kayleigh Ure (Head of Music) - K.ure@st-josephs.slough.sch.uk