#DREAMBig - The Wider Curriculum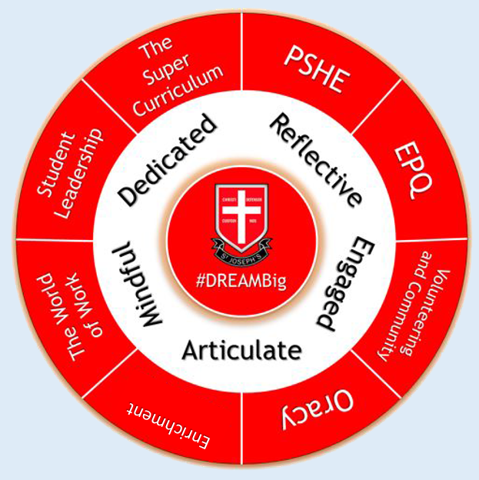 #DREAMBig is the St Joseph's sixth form wider curriculum and is so called because it perfectly encapsulates everything that we are about. School is about so much more than grades and the subjects that you learn. It is about equipping you for the journey ahead.
Our vision is to provide a well-rounded education that is balanced between academic excellence, mastery of skills and cultural capital. Our wider curriculum includes a complete package of enrichment, events and visits that we encourage students to take part in outside of lessons, as well as a relevant and personalised PHSE curriculum that will prepare students for life in modern Britain.
#DREAMBig is encapsulated under eight key headings: The Super Curriculum, PSHE, EPQ, Student Leadership, The World of Work, Social Societies, Oracy and Volunteering & the Community. Our objective is to ensure our students leave us as Dedicated, Reflective, Engaged, Articulate and Mindful young adults with the best possible options for the journey ahead.
The Super Curriculum – the Super-Curriculum encapsulates all those activities that foster academic endeavour beyond the measurable outcomes of examination results. It includes (but is not limited to) wide and habitual reading, extended project work, debate, public speaking, research, competitions, lectures, study trips and is brought together by subject teacher and sixth form team guidance as well as the work that underpins the Social Societies – students will find subject specific guidance for this in form room reading lists, the sixth form reading list in the student area, via our range of PiXL resources (link to PiXL6 resources page here please) and by joining a Social Society of the faculty of their choice.
The Debate Club - Run by the Philosophy & Ethics department
Invitation to the Eton Social Socities
PiXL Conferences ("Getting in to a Top University" and "Why Should We Make You an Offer?")
The Eton Oxbridge preparation day
Inteview Prepration by Joe Organ of Brasenose College
Critical Thinking - Run by the Head of Sixth Form
The Sutton Trust Pathways Programme (see below)
The Sutton Trust UK Summer Schools Programme (see below)
The Social Mobility Foundaton's Aspiring Professionals Programme (see below).
Massive Open Online Courses (MOOC) via https://www.futurelearn.com/
The Catenians Society - Interview Preparation and Oracy workshop.
There are also a host of trips run by departments, such as the Bodywords trip run by Science.
Below is the Super Curricular Reading List, which is a compedium of things to read, watch and listen in order to foster a love of learning as well as a depth and breadth of understanding on the journey to obtaining subject mastery
The St Joseph's Super Curricular Reading List
For further information, see the St Joseph's Super Curriculum & Widening Participation page.
PSHE – The aim of our PSHE Programme is to enable students to develop holistically, support their transition to adult life and guide them from dependence to independence, by equipping students to improve themselves, the way they think and understand others by:
improving their health & wellbeing
helping them understand how to build positive relationships
equipping them with the knowledge and skills to live in the wider world (academic literacy, economic wellbeing, careers and the world of work)
to develop their cognitive abilities to make rational judgements by examining cognitive biases, fallacies and logic 
St Joseph's Sixth Form Curriculum Map
The course will be split into seven units:
Wellbeing for the Modern World
Sex and Relationship Education
Employability
Post-18 Pathways
Living the Wider World
Financial Literacy
Future Leaders 
Furthermore, it exists to promote pupils moral, social, spiritual and cultural development while increasing their self-confidence.
In Year 12 our focus is initially on making a smooth transitions in Post 16 study with a focus on academic literacy, study skills and metacognitive strategies that will prepare them well for level 3 study and beyond. It will provide the students with the capacity to learn independently, how to set and track their own academic targets and to help them manage their time more effectively. Through the year other areas are covered such as healthy relationships, physical and mental wellbeing, careers guidance as well as digital literacy.
In Year 13 support and advice in selecting and applying for University places or employment are a major focus along with Careers advice and exposure to a range of Post 18 options available.  In addition to this the students receive practical advice and session on how to revise, exam technique and how to manage stress, with the option to discover meditation & relaxation techniques as well as a focus on citizenship in modern Britain.
All our sixth form benefit from a range speakers and guests to inform and inspire them to achieve their potential as we seek opportunities that will further enrich our students beyond the scheduled programme.
Critical Thinking – in order to ensure that our students leave as logical thinkers, equipped with the skills to thrive and achieve academic mastery; we provide students with the opportunity to study critical thinking. This is a two-tiered approach. Firstly, we weave critical thinking into our PSHE curriculum and secondly we hold critical thinking classes every Thursday morning at 8am in A5. 
EPQ – The Extended Project Qualification (EPQ) is a skills based, independent research project that is an essential part of our study programme.  The project is unique in that students decide their focus alongside close mentorship from a designated course tutor. The purpose of the EPQ is to develop valuable skills and developing a love of research, academic writing and the subject in hand. All students are given time with a tutor as part of their timetable.
By completing an Extended Project, you are embarking on a challenging and rewarding journey which will enable you to become the College expert in your chosen field and equip you with a range of skills valued both in further education and in the workplace.
Do you have a particular interest in some field of study which goes beyond the confines of your A levels?  Do you want to develop time management, research and independent study skills to give you the edge when you leave college?  Then the EPQ is the perfect complement to your existing study programme.
What sort of qualification is it? The EPQ is a Level 3 independent research project which earns you UCAS points.  An A in the EPQ will gain you 24 UCAS points, the same as an A grade at AS.  It is also possible to gain an A* in the EPQ, which is worth 28 UCAS points and universities will often reduce their entry requirements for students with an A in EPQ.
Mr Ojakovoh is the Subject Leader for the EPQ and you will find further information and guidance here https://www.cife.org.uk/article/sixth-form-epq-extended-project-qualification/
Volunteering and the Community – it is important that students see the bigger picture beyond themselves and the academic outcomes they wish to see for themselves. We actively encourage and seek opportunities for students to volunteer inside and out of school as well as give back to the community of which they are part. We offer many opportunities to volunteer in school, such as supporting school events but we also offer the opportunity to take part the Learning to World Volunteer Passport (sponsored by local company SEGRO).
Oracy and Literacy – we want our students to ask questions, speak, listen and read with confidence. We endeavour to develop our students' speaking, listening and reading skills, raising the importance of and embedding the use of oracy skills in and outside of the classroom. Ms Osei-Brainoo runs the Debate club at our school and we hold Oxplore debates as part of our pastoral curriculum and Oracy skills are developed explicitly as part of our PSHE curriculum.
We have collated the key vocabulary for each subject that we teach specific to the exam boards that students study via the Quizlet links below. Quizlet is a free online tool that hosts vocabulary lists and metacognitive activities that are intuitive to the way that students learn. Students student and revise each vocabulary list through the following activities that aid learning, recall and retention:
Please click on the link to go to the desired vocabulary list (it is even better if you have a free account!):
Subject specific vocabulary
Science – https://quizlet.com/_55247u
English – https://quizlet.com/_313tje
Media – https://quizlet.com/_51wsbf
Geography – https://quizlet.com/_4m188r
Music – https://quizlet.com/_3oj4ar
Computer Science – https://quizlet.com/_4qi4x8
Psychology – https://quizlet.com/_3akhnq
Business – https://quizlet.com/_3l6674
Travel & tourism – https://quizlet.com/_4465qh
Sociology – https://quizlet.com/_31qier
Sports studies – https://quizlet.com/_5nfdp1
Philosophy & ethics – https://quizlet.com/_4r8u2f
Performing arts – https://quizlet.com/_4e00pp
Law – https://quizlet.com/_2ulbg3
Languages – search unit names for flashcards
History – search topic name + vocabulary
Exam command words – https://quizlet.com/_5nfxcv
Enrichment – education is about developing the full range of