Apply
Dear Student,
Thank you for your interest in studying at St Joseph's sixth form. Please see the timeline, application forms, entry requirements and curriculum guidance below. Please return the documents to our main school office (they can also be returned via email office@st-josephs.slough.sch.uk). 
Please be aware that students applying from other schools must complete an intake form and provide a copy of their results upon enrolment on GCSE results day on the 20th August, 2020.

The Application Timetable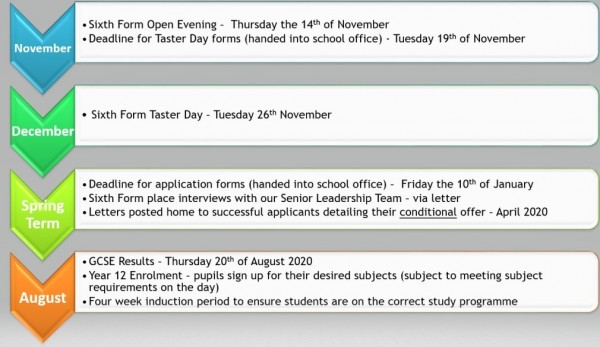 Application Forms
Course Selection
Students will be offered guidance by staff on what subjects to take, depending on personal/career goals. Some degree pathways (e.g. medicine) has an A-Level requirement. You will select three A-Level subjects at the start of Year 12 along with the Extended Project. Qualifying students may also opt for Core Maths, the Extended Industry Placement and a fourth A-Level.
A-Level/BTEC
Plus
You may also choose
Choice 1
 

 

 

The Extended Project Qualification (EPQ)

 

 

5 days of Work Experience

Core Maths
 

 

Choice 2

Extended Industry Placement (2x BTEC route only)
 

 

Choice 3

 

 

A fourth A-Level (those with an excellent GCSE achievement profile)

A-Level
Under the new A-Level your final grade will be based on examinations taken at the end of a two year course. If you are taking A Level Maths or Science you will need to enrol in a fourth subject that may be dropped at the end of Year 12.
BTEC
The BTEC Subsidiary Diploma is equivalent to one A-Level. It is a vocational qualification encompassing a more practical approach to your studies. Two years of study must be completed to obtain accreditation. BTECs are equivalent to A Levels when it comes to UCAS points.
how to choose courses doc
Extended Project Qualification
Recommended by leading employers and universities we are privileged to offer The Extended Project Qualification (EPQ) to all of our sixth form students. It is an 18 month (Level 3) study programme that provides an opportunity for you to pursue your own academic interests in a chosen topic. You will undertake independent research, gaining additional (up to) 24 UCAS points for your university applications and developing a range of independent research skills.
Core Maths
Core Maths is equivalent to an AS-Level and is a one year qualification that explores the application of Mathematical skills to a variety of contexts. It weaves together topics at GCSE level to other areas within A-Level study such as Psychology and Economics.
Extended Industry Placements
65% of employers state that work experience is either critical of significant in making a decision to take on a new recruit. Such is the importance of work experience, St Joseph's have teamed up with local company Learning to Work to offer extended 18 week industry placements with local businesses that are personalised to the career goals of the student. The student will develop key skills, qualities and will gain experience that will ensure their competiveness in the modern local and national job market. This will be part of the student's study programme and one day a week will be dedicated to the placement. Students will complete a log to reflect on the experience to ensure a strong academic link.