Apply
Dear Student,
Thank you for your interest in studying at St Joseph's Sixth Form. Please see the application timeline, entry requirements and curriculum guidance and the online application portal below.
For any further details please contact our Admissions Secretary, Miss Emily Stagg via:
office@st-josephs.slough.sch.uk 
Sixth Form Taster Day
We will run a Sixth Form taster day for St Joseph's Students on 7th December 2021. Year 11 will receive information via assembly in early November as to the format of the day.
Enrolment and Next Steps
 Information for Entry 2022 coming soon!
*Please note all students at St Joseph's Sixth Form must study to EPQ (unless they take Philosophy & Ethics).
Application
Internal Students - click here to submit your application online.
External Students - click here to submit your application online.
External students will need to apply online and follow up via email with a Reference from your Head of Year and complete an Intake Record Form (you can find these documents below).
Please complete these and provide a copy of your latest school report to office@st-josephs.slough.sch.uk.
Please note we do not accept emailed/paper application forms.
The Application Journey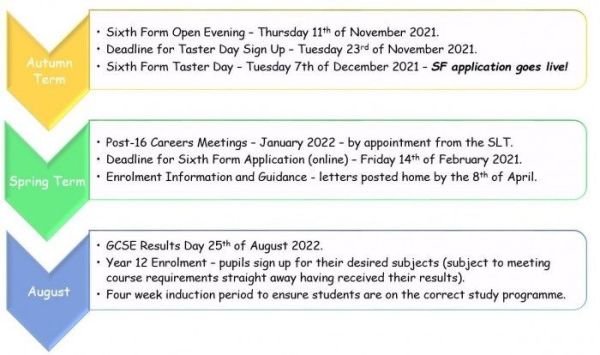 Key Documents:
STCAT Admissions Policy - Secondary & Sixth Form 2023-2024
Course Selection:
We offer two types of Level 3 course at St Joseph's; the A-Level and the BTec. Students will be offered guidance by staff, on which subjects best fit their personal/career goals. It is important to note that some degree pathways (e.g. medicine) have a specific A-Level requirement (see page 18 for further guidance). Other university courses may not, and will accept mixture of A-Levels and BTecs. Students will select three Level 3 subjects at the start of Year 12 along with the Extended Project. Qualifying students may also opt for Core Maths, the Extended Industry Placement and a fourth A-Level. Students studying Maths and Science subjects must study a fourth subject.
The table below illustrates the process of choosing the subjects that make up your personalised study programme.
Step 1: A-Level/BTec

Step 2: Plus you must choose

Step 3: You may also choose

Choose three subjects, which can be combination of

A-Level and/or BTec study

 

Students studying Maths and Science must take 4 subjects.

The Extended Project Qualification (EPQ)

 

5 days of Work Experience

Core Maths

Extended Industry Placement (2x BTEC route only)

 

A fourth A-Level (for those with an excellent GCSE achievement profile)
Level 3 Subjects
A-Level and BTec are Level 3 qualifications that build upon the Level 2 qualifications studied at GCSE. With 27 courses on offer, the Sixth Form provides a unmatched level of choice for students to construct a programme of study that suits their personal needs.
A-Level
GCE A-Levels are a two year, Level 3 academic qualification. Students will sit exams at the end of their second year of study. Our students will no longer sit AS levels at the end of Year 12 (except for Maths, Science and Economics).
BTEC
The BTEC National Extended Certificate (360) is an applied Level 3 qualification that we offer. It is a vocational qualification encompassing a more practical approach to your studies. Two years of study must be completed to obtain accreditation. BTEC is as challenging as A-Level student and equivalent in terms of UCAS points. The BTec qualifications are assessed through a mixture of exam, coursework and/or controlled assessment.
Extended Project Qualification (EPQ)
Recommended by leading employers and universities we are privileged to deliver The Extended Project Qualification (EPQ) to all of our sixth form students. It is an 18 month (Level 3) study programme that provides an opportunity for you to pursue your own academic interests in a chosen topic. You will undertake independent research, gaining additional (up to) 24 UCAS points for your university applications and developing a range of independent research and presentation skills important for university study and the World of Work.
The EPQ is a compulsory part of our Sixth Form curriculum (except for those who study Philosophy & Ethics).
Core Maths
Core Maths is one year Level 3 qualification, equivalent to an AS-Level. It explores the application of Mathematical skills to a variety of industry-based contexts. It weaves together topics at GCSE level to other areas within A-Level study such as Psychology and Economics.
Long Term Industry Placements (LTIP)
65% of employers state that work experience is either critical of significant in making a decision to take on a new recruit. Such is the importance of work experience, St Joseph's have teamed up with local company Learning to Work to offer extended 18 week industry placements with local businesses that are personalised to the career goals of the student. The student will develop key skills, qualities and will gain experience that will ensure their competiveness in the modern local and national job market. This will be part of the student's study programme and one day a week will be dedicated to the placement. Students will complete a log to reflect on the experience to ensure a strong academic link.
N.B. we are looking to continue with the LTIP, however this is currently on hold whilst a Covid-19 secure plan is put in place.